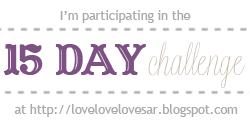 WOW!! What a weekend!! I'm absolutely POOPED! I can't wait to share about all the fun I had this weekend... but today I thought I'd join in for the 15 Day Challenge over at
The Love of Life
!!
[Day 1]:
List 15 fun facts about yourself.
1) I'm an only child! My moms my best friend and my parents divorced when I was in my early 20s.
2) I am an animal lover! So much so that I will cry in a movie if an animal dies- every human in the world could go- but don't have an animal die!!
3) I love a bubble bath! I take them several times a week! I can't resist!
4) I am an optomist- 100%. I love to laugh, smile and look at the positive side of things!
5) I love a good romatic comedy! I collect movies- and those are the majority of the movies!
6) I wear my heart on my sleeve. I love hard and with all my heart!! It causes me at times to get hurt- but it makes me who I am.
7) Referring to the above- hurt me or most importantly- someone I love and you're dead to me!
8) I'm addicted to my iPhone, Facebook and self-pics.
9) I am loud and proud! I love my loud laugh and don't care how silly I sound!!
10) I had gastric bypass and have lost 90 pounds so far! I have never felt so wonderful!
11) I'm a little bit of a flirt! But only when I don't know I'm doing it- I have zero "game" when I try!
12) I have a new love for running!! It's such an aMAZing feeling!!
13) I have an early childhood education degree and work supporting the Navy. Oddly enough, I do use some of the skills I learned with children with my coworkers! :-)
14) It's harder than I thought it would be to think of 15 things about myself!!
15) My dream is to be married with kids and work in a daycare part time and stay at home mom the rest of the time!