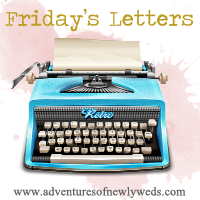 Dear Weekend!
Welcome back! It's been a long and stressful week! I'm glad for your arrival!!
Dear Gallbladder!
We've had 28 long years together- but as of Tuesday, you're history! PEACE!!
Dear Mommy!
Thanks for taking such good care of me! You are the bestest!!
Dear Chick-Fil-A!
Believe whatever you want, just keep making my diet lemonade!! I'm going nowhere!!
Dear Roomie!
I miss you! Excited for some much needed beach time this weekend!!
Dear Amanda!
I can't wait to shoot pictures with you tomorrow! You helping me live out my little dream of being a model!!
Dear C/O '02!!
See you tomorrow for our 10 year reunion!! How crazy is that!!
I CAN'T WAIT!
Dear Lord!
Thank you for my many blessings!
I am beyond happy with my life and it's all due to you!
I am so undeserving!!
Dear Self!!
Some wise words to remember and live by: