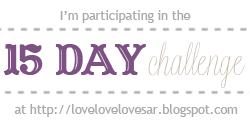 Day 4]: What's your favorite childhood memory? My favorite childhood memory- that's really tough!! I have several! But the most precious one to me is one so simple, but so engraved in my head that I can remember it in every detail. (Maybe because it happened so often)
My mom use to wear these skirt and shirt combo's for work. Always with a slip and pantyhose. She would come home from work, take off the skirt to not wrinkle it and sit for a few on the couch in her slip and shirt. I would always come sit right by her (or more often lay my head on her legs for her to rub my back) and we would watch the news, talk about nothing and just have that time together.
Now if you ask her- because I have- she barely remembers this. She remembers trying to get everything done, me washed and homework done, dinner cooked, me in the bed- but doesn't realize she did something that had such an impact on me. It's one of my fondest memories!!
*posting this from the iPhone- as I head to the beach! I hope it comes out ok! Wishing everyone a wonderful and safe 4th!*