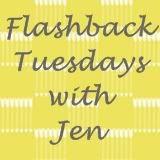 Jen messaged me about joining up for her new link up!
I'm all there!
Up first is Vacation Flashback...
When and where did you last travel?
My last Vaca was back in January! I treated mom to a trip to her favorite place: the MOUNTAINS!!
We went to Gatlinburg/Pigeon Forge and had the BEST time!
It will definately be something we do again and again!!