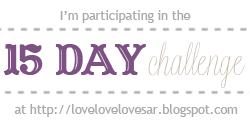 Happy Friday and TGIF!!
Did you know it was Friday the 13th?! I didn't until I logged on Facebook!
[Day 13]: What are your favorites?
My favorites? Oh my... this is a super hard one!
I have so many and I feel they change at times- so I'm going to try my best!!
Favorite Song:
I love music and I love many many songs!
My favorite would have to be the song I want to dance to with my husband as our first dance!
Yes, I am single and No, I'm not giving him a choice!!
Allison Krauss- "When You Say Nothing At All"
I just love the words and sound of this song! I smile every time I hear it!
Favorite Quote:
Oh how I love a good quote!! Back when I first started this blog in 2007- WOW, I had a whole post on quotes I like- you can read them
here
!!

A quote I keep at work is:
"Every job is a self-portrait of the person doing it. Autograph your work with excellence!"
I also love this from the wise words of Dr. Suess:
#1 for me has got to be:
"Let Go and Let God"
I live by this and have it in my home as the first thing you see when you enter! No truer words in my opinion! He's got it all in control!!
Favorite Food:
This is actually a tough one! I loved food, like LOOOOVED it, prior to surgery- but now it's just something I do to stay alive. I no longer live to eat, I eat to live.
My favorite thing now would have to be my bariatric protein bars! They are so yummy and delish! I must limit myself to one a day! That and milk- I have a gallon at home and a gallon at work- it's a definite fav also!
Favorite Vacation Spot:
I love the beach and pool and sun- but the most fun I have EVER had on a vaca- was VEGAS!! I went several years ago with my ex and his family and had a BLAST! Granted, if I went again, I'd have more fun b/c he wouldn't be there! ;-)
I did search deep in the computer for some of these pics- and wasn't about to put him on the blog- but I do love some Vegas, Gambling, Shows and Shopping! Must do again!!
Favorite Photo:
I like pictures- can you tell?? Nah, didn't think so!
How can I pick a favorite picture?? That's super super hard... so I picked a few!
These are not the most recent, nor are they me at my smallest, but they are great memories and I love them!!
(And Can I say WOW on the Way back memories I got looking for these)





What are some of your favs??