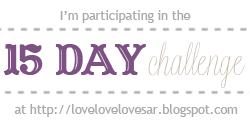 Morning Friends! I hope everyone had a fabulous 4th!! Mine was wonderful!! Couldn't and wouldn't ask for anything different!! :-)
Back to the challenge...
[Day 5]: If you could have dinner with any five people, who would they be?
OK- time to get sappy!! If I could have dinner with any 5 people- these are my choices (and why)
1) My Grandmother (my mom's mom)- I've never met her- she died in '77 before I was born and I've always dreamed of meeting her!!
2) My Papa- I adored him and miss him so! I didn't get to see him the one day he was awake and though I was there when he passed, I'd still love to see him again. And to see him with my grandmother, the way he would probably just adore her would be beautiful!!
3) My Aunt Lee- I didn't get to say goodbye to her- to this day it still kills me! I remember I spoke to her on Monday, and we were going to visit her on Wednesday and Tuesday we got the call... I know she knew I loved her, but it still hurts me heart when I think about it! (She's who I'm running for and raising money for on the left!! I got a ways to go!!)
4) My "Brothers"- Don't laugh, this is my imaginary dinner. My mom had two miscarriages before she had me. They were never past the first trimester, so she never knew the sex- but being an only child, I ALWAYS wanted an older brother! So in 6th grade- I have no idea why- I just felt like those two children she lost were boys. And I have always had a peace in knowing I have two older brothers looking out for me!!
5) My "Ma-Ma"- She was my dad's grandmother- my great grandmother. My dad went through pure hell growing up, a father who didn't want him, a mother who couldn't mentally care for him and so he was left to be raised by his grandmother (him and his brothers). I've always wanted to thank her for caring for him when others didn't.