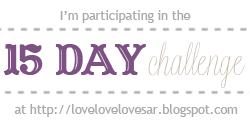 [Day 9]: Tell us the best day of your life to date.
This is kinda hard- I'm coming down off of a birthday week/stay-cation high- so this past week was pretty fantastic. I don't have kids and I'm not married- so I don't have an obvious "best day" to talk about...
I will use the past week and pick the best day of those- which is also super hard...
We (my BFF/Roomie and Birthday Twin) woke up when our eyes told us to and got ready for the beach. We laid in the sand and soaked up the sun and just laughed with each other.
After that, we headed home and got ready for our Double Karaoke Birthday Celebration at a local Mexican restaurant. The food was delish- still no alcohol for this girl- the company was fabulous and then the Karaoke began. I forgot how fun it was! We stayed until we closed it down. Ended by some Wobbling and Cupid Shuffle then this girl didn't STOP dancing! (I LOVE to dance!)
It was one of the best nights I've had in a while!!