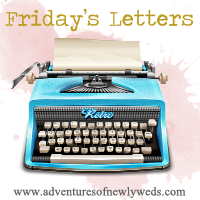 Linking up to Friday Letters and High Five for Friday into one!
Therefore I'm limiting myself to 5 letters...
Dear Recovery!
You have been easier than I thought you would be and I thank God for that!!
Not that I want to have my gallbladder out every week, but this was doable!
Dear Running Shoes, Workout Clothes and Gym!
Don't get to use to not being used. I've only been told I'm not allowed to work out for 2 weeks!
I'll be picking right back up ASAP!!
Dear Friends and Family!
Thanks for taking such good care and looking out for me during recovery!!
I'm so thankful to each of you!!
Esp these little cuties that have been attached to my sides and not leaving mommy!
Dear Weekend Fun!
I'm not sure what you will consist of yet since tanning at the beach is probably not an option- but shopping is always on the back burner. So apologies to the debit card ahead of time!!
I don't need to shop the whole time tho, so...
Good think I've rented 4 movies from Redbox:
21 Jump Street, New Years Day, Mirror Mirror and This Means War!!
Dear Mom!
Thank you for being my #1 fan and supporter!
I wouldn't be anywhere without you!
You are always there for me- no matter what!!
Thank you! Thank you! Thank you!!
Lots of love friends!!