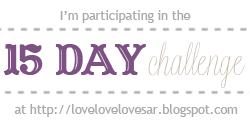 Thanks for the prayers- I'm feeling a little better today- but still do NOT want to eat!! Which is not necessarily bad- I've lost 2 more pounds LOL!! Hopefully I'm headed back to the well side of life and on the tail end of whatever I've got!!
Continuing the challenge:
[Day 12]: What are you most looking forward to in the next six months?
Hmmm- Let's see, what does the next six months include...
The rest of July, August, September, October, November, December...
What do I have planned?
The first thing that pops to my mind is my half- marathon!! It will be mine and my teammate's first! (We're raising money for the Leukemia and Lymphoma Society- so please pray we make our goal!!) (You can see our progress on the side of my blog- we got a ways to go!!)
Either way- I'm stoked to be running in honor of something so close to my heart! And excited to head to Savannah in November and complete 13.1 miles! WOO HOO!!
I'm also excited to hit my 1 year anniversary for my surgery. As of this morning (sickness included) I had lost 93 pounds!! And it's not even been 9 months! I can't wait to hit 100!! :-)
Thrown in the mix is also Christmas time- I LOVE Christmas time!! LOVE LOVE LOVE!!! I can't wait to decorate and celebrate with family and friends!! Big smiles all around for Christmas!!
What are you looking forward too??