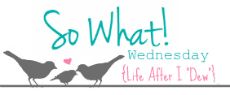 Happy Wednesday Y'all!!
I am so happy!
I cannot stop smiling for no particular reason!
I hope each of you are experiencing joy like this- even in the slumps
Be thankful for all your many blessings!!
Here's this weeks So What I'm Loving Post...
So What if everyone is tired of my Facebook countdown posts... I'm loving Gamecock football starts TOMORROW!!!
So What if I shop too much... I'm loving these shirts and may have to buy!!
So What
if they are bed hogs... I'm loving my pups will be featured on "
Furbaby Friday
" this week...
Check them out!!
So What if I'm going to be utterly exhausted... I'm loving I got some promo work for the weekend.
Need the money honey!
So What if I've annoyed the crap outta the Crews Chevy guy... I'm loving that I should be getting my car back today!! I'm gonna kiss miss Sally!!
So What if it's going to be tough... I'm loving that we run our half marathon in 10 weeks!
#WHAT
So What if we are behind on fundraising... I'm loving that we are trying and all that have donated.
Can you help? #Shamelessplug #LeukemiaandLymphomaSociety
So What if it means I have to pack up some of the white and summer clothes... I'm loving the 3 day weekend coming up and unofficial start of fall!!
Happy Hump Day Again!!
Almost to the end of the week!!