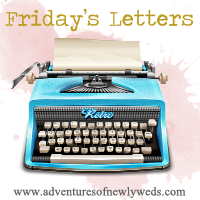 We Made It!!
This has been a week I tell ya!!
Car Wrecks, Insurance Issues, Overload at Work, Etc...
Can I hug the weekend??
Dear Weekend...
Please go slow! I need the rest!
Your cousin, this week, has royally kicked my butt!
Dear Mom...
It's your 40th reunion this weekend and I'm making this 4 layer 16x16 cake... we shoulda talked before you volunteered me for this!!
Dear Oven, Mixer and Kitchen...
Work with me on said cake above!
Dear OCD...
Don't go into overdrive when I'm decorating this thing!
Dear Beach...
You and I haven't seen each other in a hot minute- I hope to change that Sunday!
I've missed you!!
Dear Running...
I got the all clear from the doc and will be hopping right back in those shoes! I can't wait!! :-D
Dear Self...
Remember: