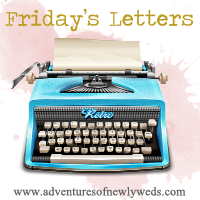 Dear Friday!
Hey hun, how ya doin??
Missed ya!
Dear Weekend!
Slow your role and take your time!
I got lots of fun planned and want to enjoy it!
Dear Family!
I get to see you tomorrow!
This excites me!
Dear Amy and Jon!
Happy Engagement Party tomorrow!
It's going to be a blast!
Love you both so!!
Dear Lil Bit!
You start school Monday!
I can't wait to keep up tradition and come see you off to school!!
*Stolen from her mommy's facebook*
Dear Promos!
I ADORE you!
This job is so much!!
I worked last night at my first bar/club promo and LOVED it!!
It's so me!!
Dear Team In Training!!
We need to make some more $$$.
The Leukemia and Lymphoma Society needs it!
Guest bartending was fun last night, but not where I needed to be!!
Anyone got any ideas??
I got every dang stop light!!
Behind the bar! It was kinda thrilling!!
What are your Friday Letters??
Link up and Share!
Have a great weekend loves!