IT'S FRIDAY FRIENDS!!
How happy are you?! We made it through another week!
I can't wait for all the exciting things I have planned this weekend!
Monday's post should be full of fun!
But until then- let's play with the Friday link ups!!
Linking again with the Friday Blog Hop in hopes to make some new blog friends and readers!
Look around and stay a while! :-)
~~~~~~~~~~~~~~~~~~~~~~~~~~~~~~~~~~~~~~~~~~~~~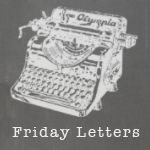 Some Letters!!
Dear Weekend:
You are going to be AWESOME!!
Dear Smile:
I can't wipe you off my face! SRSLY!
Dear Nails:
Welcome back to looking good!! EEK!
Dear Gamecocks:
Take us to 5-0
*My first day wearing Skinnys and heels*
Dear Fall TV Line Up:
You aren't disappointing!!
Dear Hips:
You need to shape up or ship out!!
Dear Debit Card:
I'm sorry I put such a hurtin' on you last night.
But- In my defense- I got cute stuff!!
Dear Christmas?!?!
SLOW IT DOWN!!
While I am super excited for you,
Let me enjoy Fall!!
Dear Men:
Wanna know a secret??
A little cologne goes a LONG way with me!!
(I went looking at perfumes last night and spent more time smelling the mens than finding one I liked for me)
((There's something about a good smellin' man!!))
*This one captivated me*
~~~~~~~~~~~~~~~~~~~~~~~~~~~~~~~~~~~~~~~~~~~~~~~~~~~~~~~~~~~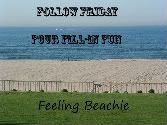 This week's statements:


1. when I was little I was called _Stacylouwho and Sweet Pea- ok who am I kidding, I'm still called these__
2. _Crystal Light Sugar Free Hard Candies__are my favorite candy
3. If I could have one magical power it would be_to read minds!! That would be the best EVER_____
4. If I could go back to school it would be to become a _model! I know superficial and can't really go to school for it- but I LOVE having my picture taken!!________
~~~~~~~~~~~~~~~~~~~~~~~~~~~~~~~~~~~~~~~~~~~~~~~~~~~~~~~~~~~~~
1. My first memory is

going into my "Grannys" house to be watched in the mornings before I started K4

.
2. My first love was

my dad. Yeah- I told him when I got older he had to divorce my mom and marry me- He did divorce her, but the latter of that ain't happening! LOL
.
3. My very first favorite color was

pink!! "Pink is my signature color" (bonus points if you know that movie) I LOOOOVED all things pink- still do!! .
4. The first time I really felt like a "grown-up" was when

There are times I'm still not convinced I'm a grown-up!!

.
5. The first thing I do when I wake up in the morning is

lay in bed and check my phone. It wakes up my eyes and I see what I missed on Facebook (obsessed much) .

6. The first CD (cassette tape, record, etc...) I ever bought was the first I bought?? I think it was Amy Grant .


7. My first car was

a 1995 Chevy Astro Van. WHAT WHAT!! That thing was a TANK!! Luckily it didn't last long b4 I got my Subaru .
That's all ladies and gents!
Have a fabulous weekend!
I plan to! :-)