TGIF Friends!!
Hope you've had a week as wonderful as mine!!
God has been shining down on me this week and I can't help but sing His praises!!
Today we got ANOTHER $500 donation to our
goal!!
YAYYY
How awesome is that?!
Things are just going wonderful!!
I can't wipe this smile off my face!!
Time for the Friday Link-Ups:
First Up:
1. Right now the weather where I live is

fabulous! I get a little whiny when Fall starts b/c I hate packing up my heels and sundresses. But this fabulous breeze and sunshine has made me smile

.
2. The best piece of advice I've been given is

"You know where you stand" People will let you know your importance in their life and you should always remember that
.
3. My most favorite person in all the world is

my mommy! I love her so! This is so not new! She's my biggest fan and supporter! My scapegoat when things go wrong, there whenever I need her!! .
4. If I were to have a "mission statement" for my life, it would be

"Let Go and Let God" I can't tell you how much this has applied to my life this week. God's hand is really in ALL things this week! It's a wonderful feeling

.
5. My most favorite item in my closet is

I have pick just one?? Well right now I guess my blue dress. I like the way it makes my eyes pop! Or any of my gamecock stuff! OR OOO my new SIZE 10 pants I just bought! I have not been a size 10, since I was 10!! .
6. The best cure for a bad day is
puppy snuggles! I love my tanning time or walking, but seriously- a puppy giving you a lick b/c they know your day has been rough- doesn't get much better!! .
7. Today is

a GREAT day! Seriously- can't stop smiling!! .
~~~~~~~~~~~~~~~~~~~~~~~~~~~~~~~~~~~~~~~~~~~
Next: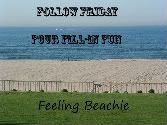 This week's statements:


1. I like to __ when I am ___
2. ___ is my favorite vegetable
3. I get ________ when I ___________.
4. I'm surprised by _________ and ____________.



This week's statements:


1. I like to _pray_ when I am _scared__
2. _Green Beans__ are my favorite vegetable
3. I get _happy and full of joy__ when I _think about the future and all God has for me_.
4. I'm surprised by __how generous people are___ and _that makes my heart full____.
~~~~~~~~~~~~~~~~~~~~~~~~~~~~~~~~~
Finally some Friday Letters!!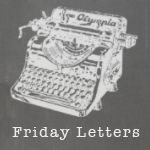 Dear Mom:
You are my BFF! Thanks for always being there!
Dear Fundraising:
God is providing!! Goal will be met!
Dear 5 Miles at 6am tomorrow:
Be gentle on me!
Dear Gamecocks:
You've got an easy team tomorrow, but doesn't make me cheer any less!
GO COCKS!!
Dear Secret I can't share yet:
AHHH Hurry and go thru so I can tell!!
Dear Weekend:
Please take your sweet time!
I want to enjoy you!!
Dear Life:
You rock!!