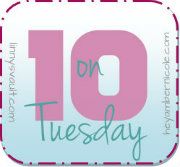 Happy April and Tuesday Friends!
Life is good, but I'm very random today.
Definitely having a case of ADD... so this may be more than 10, may be less, will be random!!
one
GAME OF THRONES is back!!
The only downfall is now I'm having to wait a week. I was catching up on old episodes and watching a couple at a time!! I don't have patience!!
two
WALKING DEAD is gone!!
So is Andrea- you deserve it for not killing him in his sleep honey!!
I can't wait for next season!!
three
Easter was so great! Alex and I went to Cola to see his fam!
It was the best time with some DELISH food!!
His sis snapped a few pics!
Happy is an understatement!!
four
I'm gonna challenge myself to do this and hopefully tone myself up!
I feel flabby! LOL
Come to find out this cool chick is moving to my neighborhood!
five
I finally added St. Pats pics...
Here's a few from our night!
six
This week is going to be super long! 8 hours at work plus promos after til 7/8...
Tired already, but it's my GAMECOCK MONEY!!!
seven
My mom's the best... ever!
eight
more wedding pics from Amy's wedding
nine
my cousin's are the greatest
ten
This was picture overload... and I am done!!